Housing policies from below: local co-production strategies for housing justice - ISHF 2023
Updated
An event by HIC in Barcelona
How is housing policy shaped by local actors inside and outside public institutions? How do these practices respond to the housing emergency with short and long-term actions? How do they vary across the globe? What alliances are driving them, particularly between local governments and civil society?
In order to address these and other questions, HIC invites you to join the activity "Housing policies from below: local co-production strategies for housing justice", to be held in the context of the 2023, International Social Housing Festival, taking place in Barcelona, from the 7th to the 9th of June.
The workshop seeks to deliver an in-depth participatory discussion on the diversity and complexity of housing policies, particularly those emerging from alliances at the local level, in a scenario in which local action is increasingly becoming a driving force in contributing to responses to the current housing emergency.
The event will take place on Thursday 8th of June, between 15:30h and 18:20h at Comissions Obreres de Catalunya (CCOO). Registration is free and can be done here until May 29th. The event will count with interpretation in english and spanish.
The workshop is promoted collectively by CIDEU, the Global Platform for the Right to the City, Habitat International Coalition, the International Institute for Environment and Development, Observatory DESC, UCL's Bartlett Development Planning Unit and United Cities and Local Governments and its committee on Social Inclusion, Participative Democracy and Human Rights. It is introduced as a continuation to a series of efforts by these actors to advance the discussion around strategies and practices to protect and realize the right to adequate housing from the local sphere.
This session is part of the "Community-Led Housing track".
▶ Read the full programme here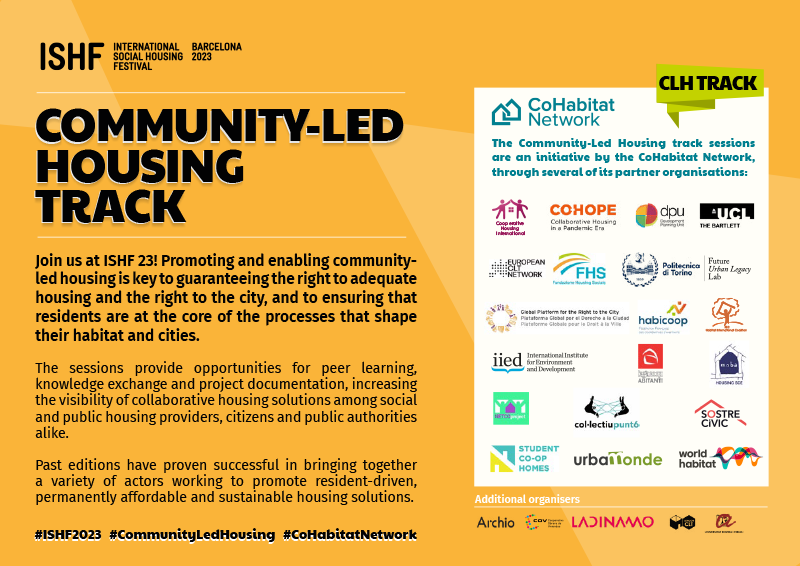 ---
The International Social Housing Festival 2023 takes place in Barcelona, Spain. The festival targetshousing professionals, community and project leaders, representatives of local authorities and professional housing associations, researchers and students.